2023年6月 9日(金) 14:01 JST
---
Downloads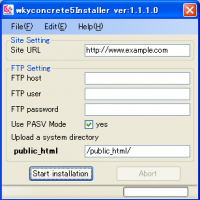 Category:
wkyInstaller

concrete5
Date:
2010-09-15 21:49
Size:
160.93 KB
Version:
1.1.1
MD5:
1d874095332522fac1c8f07b1b050cad
Rating:
0.00
Popularity:
1790


Site management system open source concrete5 support software installation!
--
This software management system software for easy-to concrete5 site can be installed with one click.
The latest version of your server rental concrete5 can be easily installed.
※concrete5 version:5.4.0.5 Added support for automatic updates!
[Main function]
* Install the FTP site URL or just a simple input of information
* Can install the latest version always available at
* Site features destination information store (for easy reinstallation.)
* Paste input support functions from opening e-mail server (wkyInstaller see the server list for rental)

[Advanced Features]
* Local archives (body) ability to specify
* Local own source directory (the body) the ability to specify

[Supplement 1]
FTP with write permissions (chmod) = 755 directory, the default configuration file = 644 (from the official request) is. The server may get your permission error. When it becomes http://hiroron.com/dokuwiki/doku.php?id=wkyinstaller:ftp_chmod view, set the appropriate value, please just install over again.

[Supplement 2]
Software for Windows XP/Vista/7

XP,. NET Framework2.0 is required. If not get the XP can be downloaded for free from Microsoft.
http://www.microsoft.com/downloads/details.aspx?familyid=0856EACB-4362-4B0D-8EDD-AAB15C5E04F5