2019年12月15日(日) 02:54 JST
---
Downloads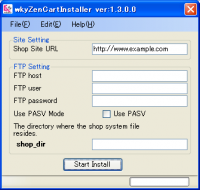 Category:
wkyInstaller

Zen Cart
Date:
2008-07-17 18:52
Size:
155.35 KB
Version:
1.3.0
MD5:
06ba16d9e91c60a59f972f5d64915820
Rating:
0.00
Popularity:
1079


Easy installation support software of Zen Cart.
This software is super-easy software that installs Zen Cart of EC shop construction by the one click.
QuickStart installation can be done in the place where the installation of Zen Cart even doesn't know the installation method for the first time.
[Main function]
* Simple data input and the button click is necessary for installation.
* (NEW)If it is import from Welcamumal, the input is not needed. (Refer to the rental server list for wkyInstaller)
* Save the site information of install destination.
* Correspond to the drag & drop operation.

[Function for senior level]
* Correspond to Zen Cart in Japanese installation.
* Able to specify the local compression file (main body).
* Able to specify the original source directory of local (main body).

[Download]
wkyZenCartInstaller v1.3.0 : http://hiroron.com/filemgmt/index.php?id=101

[Remarks]
.NET Framework 2.0 or more is necessary. When not entering, it is possible to install it as follows.
http://www.microsoft.com/downloads/details.aspx?familyid=0856EACB-4362-4B0D-8EDD-AAB15C5E04F5

----
hiroron
http://hiroron.com/