The Japanese to English using Google Translate

wkyconcrete5 the automatic installer, open source website management software can be installed easily concrete5.
concrete5 site management tool is installed, you can install in one step by using this software.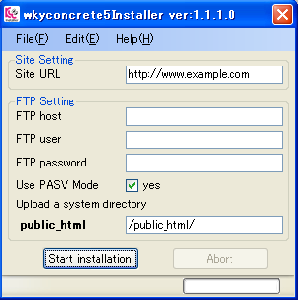 The biggest feature of this software
Permissions (attributes) are automatically set
File will then download the latest
Where do you pick which files and upload
It is these three!
Automation can be easily installed.
Please try to download it!
[Main function]
Install the FTP site URL or just a simple input of information
Can install the latest version always available at
Site features destination information storage (easily re-install)
Paste input support functions from opening e-mail server (wkyInstaller see the server list for rental)
*FTP for chmod = attributes (permissions) 755 default directory of our file is 644 (the official request of the security considerations). If the error in the access rights permissions and rental server [wiki:wkyInstaller:ftp_chmod] Please be configured according to your own server to see.
[Advanced Features]
Local archives (body) ability to specify
Local own source directory (the body) the ability to specify
Download:
Software for Windows XP/Vista/7
XP,. NET Framework2.0 is required. If not get the XP can be downloaded for free from Microsoft.
http://www.microsoft.com/downloads/details.aspx?familyid=0856EACB-4362-4B0D-8EDD-AAB15C5E04F5
Tag:
concrete5
automation_installed
wkyinstaller
wkyconcrete5installer